Women are the beautiful creation of god. They are best word to make the world around them more beautiful and cheerful. Women are special because they make the world a better place and they are the backbone of human civilization in no any doubt.
Without the presence of a woman in one's life, one does not tend to proceed in life or any path of life. Women strong enough to hang in there and still reach their goals. They have come so far in this world and that is what makes them so special. From time to time clothes and accessories are an important element in one's life and women success and their casual life.
We bring you three unique and different professions teacher, working women, multitasker. Bringing profit, revenue and including morals, ethics, values, and knowledge is something only a woman and one of these professions can implement effectively and efficiently.
Before we proceed, remember they are women who have made their mark in areas of education, business; technology, medicine, space, wild life etc. and we salute to their endeavours and women special as their true bearer of grace, beauty and charm. Women can do anything and so much more.
To begin with, our vast range of outfits we bring you the following:
Teacher who build the society
Pink and ash color never go wrong
This saree is the ideal feminine attire that beautifully accentuates only the look of women and adds the classic touch of sensuality, elegance and gorgeousness to women's personality and beauty.
Capture their exuberance of womanhood in its full glory that will bring out your fragility and femininity with stunning combination. The pink and ash color handloom silk saree is easy carefree and exhibits a certain calmness. The outfit is absolutely something a teacher can drape. One must note that a teacher is an individual who inculcates knowledge to the forthcoming generation. They must be treated and looked at as such beautiful.
The pink and ash colour saree with maroon and ash colour lines bring about a friendly vibes. The bonus is the simplicity of the blouse. The texture colour and the fact that it complements (but not over powers) the lovely work and art of the saree.
A woman is someone who believes in equality, who lifts everyone around her. She motivates every individual who crosses paths with her. A woman's courage and ability to be kind is outstanding and admirable. These also women special in the society.
Modern working women special saree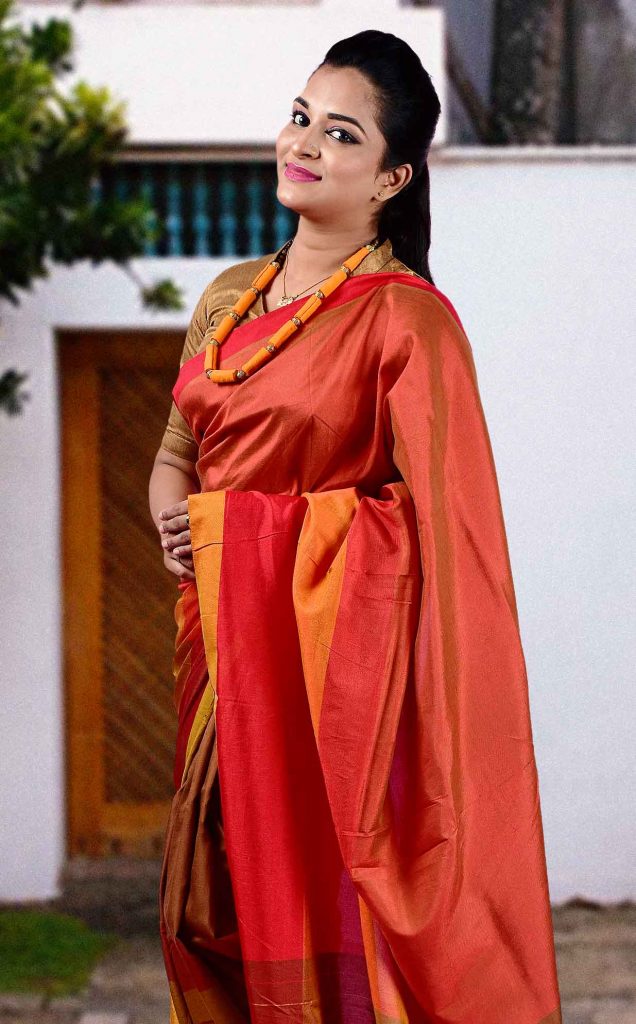 Real beauty comes out from our dressing style with this red and copper contemporary silk saree. A modern working women is bold, confident in decisive- what speaks that qualities other than red and copper?
The combination of red and copper color silk saree with copper blouse. This is showing some really mesmerizing and innovative patterns with weaving work. The delicacy and intimacy of the outfit are well established and can be seen from a mile away.
Perfect outfits for an entrepreneur whether it is a business meeting or a regular day at work. Look at traditional. Be ethic and be best boss lady!
Blue and white color Sri Lankan made better voil saree for mom!
This saree is a perfect outfit for a multitasker carries yourself high and easy. Ladies in this gorgeous amalgamation of blue and white color saree.
The soft and suppleness of the saree with printed blouse designs bring out a different vibe and energy. Soar high with this piece and continue your day-to-day life activities in the most efficient way possible.
A mom is a multi-tasked and does it all. She is limitless and strives hard. She is an all-rounder who knows to keep up with fashion trends in accomplish everything in life. Salute to all mothers.
Being a mom is a hard as it can get look great while you accomplished those daily achievements.
"Be a woman" is that complement. The efforts, guidance and contribution of woman in our life are inexplicable and cannot be measured in any way. The East Star Handlooms bring you the attire to complement that confidence. Our East Star Handlooms represents a blend of culture and Fashion. This seven yards of saree embroids our culture, tradition and moves our legacy forward in the most fashionable manner.
Without a doubt, if can be state that sarees often evoke a feeling of sentimentality and nostalgia. Other than being purely a functional garment. Sarees will always deeply connect to our identity with women.
Be brave, be strong. Embrace your femininity and to explore wide range of saree collections www.eshandlooms.lk